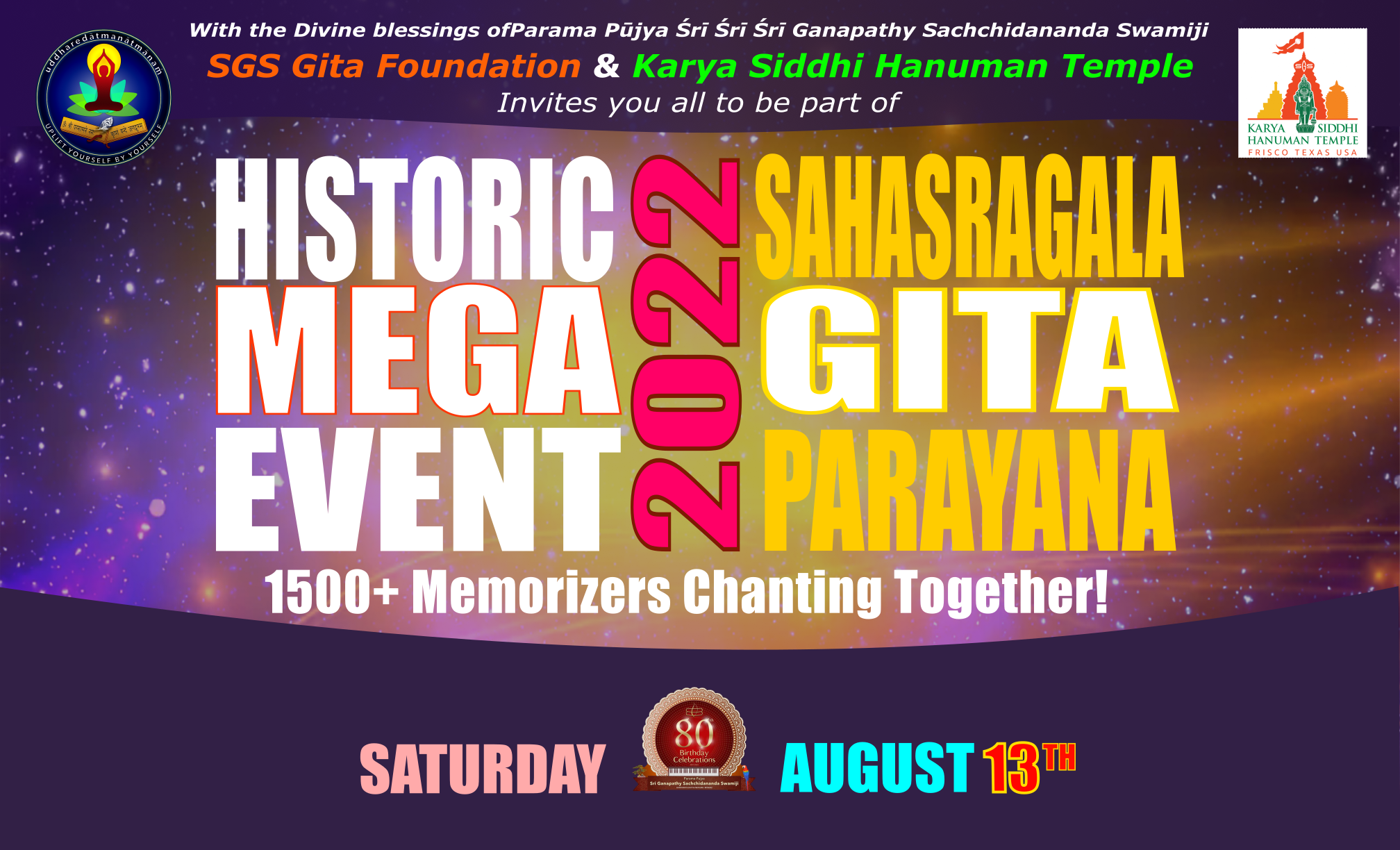 The Historic Gītā Sahasragala Event
---
History is in the making with the "Gītā Sahasragala" event, as a mammoth gathering of 1500+ chanters will recite the complete Bhagavadgītā from memory, in the divine presence of Parama Pūjya Śrī Ganapathy Sachchidananda Swamiji (Avadhoota Datta Peetham, Mysuru). These 1500+ memorizers at this mega event will be joined by 700+ trained fluent readers, their families and friends with a total of 7000 participants. This historic event is being held in the Dallas Fort Worth metro area, Texas, USA on 13th August 2022. This landmark event in Sanātana Dharma has been possible due to the grace and guidance of Pūjya Śrī Swamiji and his unprecedented Gītā Mahāyajña initiative, a global movement to teach the message of Śrī Kṛṣṇa Paramātma. Due to high demand for participation, attending this event "in-person" is by invitation only, please! For participating online, please watch out this space for a live event. Thank you for your understanding.
Gītā Mahāyajña: A Life Transformation Program
---
The Gītā Mahāyajña program envisioned by Parama Pūjya Śrī Ganapathy Sachchidananda Swamiji, is a 10-month course wherein students are taught 18 ślokas per week. The students memorize the week's ślokas as well as additionally revise the ślokas from prior weeks. On Sundays, the students appear for their weekly assessments where their pronunciation and memorization of the ślokas are tested. The Mahāyajña becomes the center of the student's life and focus for that year. Students learn time management and prioritization along with spirituality and self-discipline as they put in their hard work in learning this wonderful scripture. Rigorous full day camps during school holidays ensure students stay on track with their learning alongside having fun through Gītā games like Gītā Antākṣarī, Gītā charades, Know Gītā by Numbers, Parallel Chanting, etc. They learn perseverance and patience as they work through perfecting their fluency and pronunciation. The hallmark of the Mahāyajña program: ⇒ Authentic pronunciation, authoritative memorization with emphasis on meanings and application.
Sri Swamiji
---
Avadhoota Datta Peethadhipati Jagadguru Parama Pūjya Śrī Śrī Śrī Ganapathy Sachchidananda Swamiji was born in Karnataka in1942. Pūjya Śrī Swamiji is revered as incarnation of Datātreya. Since HIS childhood, Pūjya Śrī Swamiji has been serving humanity by providing spiritual counsel and guiding them. Through HIS aṣṭa siddhis, Pūjya Śrī Swamiji has been able to envision people's past, present, and future, understand their situations and empowers them to overcome their difficulties. The Datta Kriya Yoga Centers established by HIM help people recover from various ailments around the world. Pūjya Śrī Swamiji is a gifted musician and has composed more than 5000 Bhajans and devotional songs in various languages including Sanskrit, Kannada, Telugu and Hindi in praise of various deities which have the power of healing the masses physically, mentally, emotionally and spiritually.
Gītā Mahāyajña: Program Timeline
---
August 2015 : Pūjya Śrī Swamiji laid out the vision for the Mahāyajña program at Kārya Siddhi Hanumān temple, Frisco TX.
July 2016 : The first batch consisting of 43 students successfully graduated and offered their first ever Sampūrṇa pārāyaṇa.
2016 to 2019 : Based on the resounding success of the program, it expanded world wide. Amazing journey continues with growing demand for more centers across India, USA, Canada, Germany, Switzerland, Gulf Countries, Australia, New Zealand, Malaysia and Trinidad and Tobago.
2019 to 2020 : The Covid-19 pandemic strikes in March 2020 during the last quarter of Batch 5's yearly program. A milestone of 1000 memorizers was achieved just as the COVID-19 pandemic was setting in.
2020 to 2021 : A fully online batch powering through the COVID-19 year. Batch 6 students enroll in record numbers. The program was conducted online completely from the start to finish. The Mahāyajña program went online and gained even more strength and trained 1000 more memorizers worldwide during the pandemic.
2021 to 2022 : Emerging out of the pandemic with 3000+ memorizers world wide.Batch 7 kids and adults, slowly transition back from online into face-to-face environment as COVID-19 restrictions are lifted, gearing up for the mega event of Gītā Sahasragala Mahāyajña in August 2022 (scheduled).
Gītā Mahāyajña: Program Highlights
---
Over these last 7 years, 3,000 students - kids and adults have completed the Mahāyajña journey of memorizing the entire Bhagavadgītā. All students memorize 700 ślokas in 10 months. In addition, over 2,000 adults have been trained in fluent reading of the Bhagavadgītā. Children and adults mastered chanting of Bhagavad Gītā in Sanskrit through authoritative memorization and authentic pronunciation with emphasis on meanings. The Mahāyajña program is conducted in the USA, India, Canada, Trinidad & Tobago, UK, Germany, Netherlands, Switzerland, Australia, New Zealand and Gulf Countries. Our youngest memorizer was 3 years old when he started the program. Our oldest student completed the program when she was 80. The students of Bhagavadgītā Mahāyajña have proven that age is no barrier to learning and adopting the message of Lord Krishna.